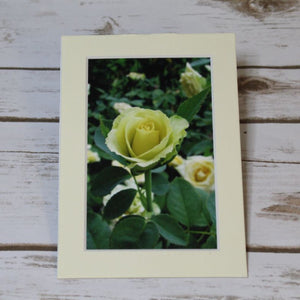 Rose - Yellow Rose of Texas - Washington Oaks State Park
Regular price
$6.25
$0.00
Unit price
per
Like most women, I love Roses.  I inherited this from my Mother who has lots of beautiful rose bushes in several colors.  The Washington Oaks State Park near Palm Coast is one of my favorite places and features a beautiful Rose Garden.   Of course there has to be a "yellow rose of Texas".   LOVE yellow roses. 

Original photograph is 4" x 6" and is in a yellow 5" x 7" mat.  
Note:  This makes a great gift that can be framed in a standard 5" x 7" frame. 
Also... photographing photos is one of the hardest things to do since the paper is glossy, indoor lighting, etc.  Was very cloudy when taking these photos for the website.  Just wanted you to know that most photos look better in person.  Thanks. 
---